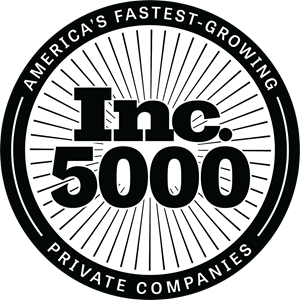 CHICAGO - Aug. 17, 2021 – A global consulting and recovery company, Envista Forensics (and Envista Forensics dba AREPA), has been included on Inc. magazine's annual Inc. 5000 list, the most prestigious ranking of the fastest-growing private companies in America.
In the past, the list has provided the first national exposure for well-known companies like Intuit, Zappos, Under Armour, Microsoft, and Patagonia. Envista reported a 15 percent increase in revenue and a 66 percent increase in employees over the last three years.
"We are honored to be included on this list. Our selection validates the work we have done to grow our team and provide excellent service to our clients, especially after spending 2020 facing the challenges of the COVID-19 pandemic. We were able to adapt quickly and find ways to continue serving our clients safely," said Envista's President, Christina Lucas.
Ms. Lucas also noted the potential for further growth, stating, "Since taking on my role as President last year, I've made it my mission to promote an atmosphere of inclusion and innovation, and I'm looking forward to seeing where Envista goes from here."
Envista's Executive Vice President, Don Skaff, spoke to the path Envista Forensics has taken to become a global leader in forensic consulting since its founding in 1985. "In my past 28 years with Envista, I've watched us grow from a small company to a global leader with key industry presence. We've added new lines of business, talented employees, and industry-leading experts," he said.
In recent years, Envista has expanded its major loss practice to North America, with a dedicated team of multidisciplinary experts to collaborate on large-scale cases. Envista has also focused in on key offerings like digital forensics, and significantly grown their building consulting group by hiring top experts and strategically acquiring like-minded firms. The company is known for its commitment to exploring new technologies, having been one of the first firms to use drones and 3D imagery to inspect complex losses.
Complete results of the Inc. 5000, including company profiles and an interactive database that can be sorted by industry, region, and other criteria, can be found at www.inc.com/inc5000.
For Media Inquiries
Contact Amanda Emery at (847) 504-5712 or Amanda.Emery@EnvistaForensics.com.
About Envista Forensics
Envista Forensics is a global leader in forensic consulting services. We provide failure analysis, fire and explosion investigations, digital forensics, accident reconstruction, building and construction consulting, geotechnical engineering, damage evaluations, and equipment restoration services following disasters of all kinds. Envista has served the insurance, legal, and risk management industries for more than 30 years. Our experts travel globally to more than 40 offices located across North America, LATAM, Europe, Singapore, and Australia.