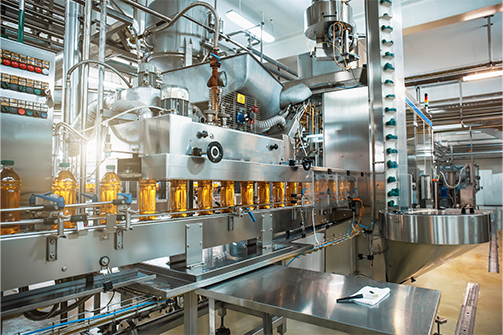 Keep Your Food and Beverage Production Equipment Moving with AREPA's Restorative Services
Production downtime in food and beverage processing plants can result in significant financial losses, sometimes equating to thousands of pounds per day. According to HPS Pigging, downtime consultants state that all factories lose at least 5% of productivity due to downtime, with some experiencing up to 20%. The food and beverage industry is crucial in keeping the world moving, and disasters such as fires, floods, contamination, or equipment failures can have devastating consequences, disrupting the supply chain and causing significant financial losses.
That's where AREPA comes in.
Our team has extensive experience in both the restoration and prevention of equipment-related incidents, with a heavy focus on assisting food and beverage companies to recover and/or avoid unforeseen events.
Restoration we Perform in the Food and Beverage Industry
Post-disaster, food and beverage equipment can encounter a myriad of issues that require immediate attention. Our team understands the specific regulations and requirements, allowing us to deliver tailored restoration solutions that meet industry standards.
Our experienced team knows every second counts. We help assess the scope of damage and deliver quick consultation based on two factors:
Equipment that should be replaced
Equipment that can be salvaged, repaired, or restored
An important part of our approach includes contamination analysis. Contaminants commonly found in the aftermath of a disaster:
These contaminants pose significant risks, including conductivity, fire arcing, equipment overheating, electrical short-circuits, corrosion, and rust. These risks can have devastating consequences for your company, resulting in prolonged downtime, revenue loss, and potential client attrition, to name a few.
At AREPA, we have extensive experience in addressing these post-disaster issues. Our specialized team is equipped to handle the unique challenges faced by the food and beverage industry, ensuring thorough remediation and decontamination to restore your operations to their pre-loss condition – or even better.
Preventive Maintenance Keeps the Food and Beverage Industry Moving
AREPA understands preventive maintenance's critical role in keeping the food and beverage industry moving smoothly and utilizes our decontamination experience to help proactively prevent unexpected disruptions. By implementing a robust preventive maintenance program, food and beverage companies can identify and address potential issues before they escalate into major problems. Regular inspections, contamination analysis, and equipment decontamination can ensure that production processes are running at peak efficiency, minimizing the risk of downtime due to equipment failures or breakdowns.
Our team of experts works closely with clients to develop tailored preventive maintenance plans, considering specific industry requirements and equipment specifications. With AREPA by your side, you can stay one step ahead, mitigating risks and maximizing productivity in the fast-paced food and beverage industry.
Equipment we Restore in the Food and Beverage Industry
AREPA has consulted and restored many types of food and beverage manufacturing equipment. Our services include, but are not limited to:
Electrical Cabinet Restoration
Production Conveyor Restoration
Mixer and VAT Restoration
Industrial Motor Restoration
Packaging Equipment Restoration
Robotics and Automation Restoration
Helping our Clients Keep the Food and Beverage Industry Moving
Consider AREPA your true partner in disaster management, whether you need guidance to help reduce the likelihood of an event occurring or help to sift through the aftermath once it already has. We understand your unique challenges and are committed to helping you keep your facilities moving.
Contact us today to learn more about our comprehensive restoration services tailored for the food and beverage industry.
HPS Pigging. "Minimising Production Downtime in Food and Drink Manufacture." Retrieved from https://www.hps-pigging.com/minimising-production-downtime-in-food-and-drink-manufacture/